Unveiling the Magic: A Gift Like No Other!
The Allure of the Stars in a Bracelet
Hey there, Sparkle Enthusiasts! Have you ever dreamt of gifting a piece of the stars? Well, here's an opportunity to bring celestial magic to life! Allow us to introduce the "Real Pink Round Rhodolite Halo Sterling Silver Bracelet", a timeless piece echoing with elegance and enchantment.
Rhodolite: The Gem of Legends
Rhodolite is more than just a gemstone. With its radiant pink hue, it's a stone that dances with every heartbeat, creating a symphony of love and magic. Let's delve into the mystical world of Rhodolite.
What is Rhodolite?
Rhodolite is a variety of the mineral pyrope, part of the garnet family. Its distinctive "pink color" makes it a sought-after jewel in the crafting of elegant jewelry.
Symbolism and Mythology
In folklore, Rhodolite has been whispered about in legends, symbolizing love, passion, and inspiration. Its connection to the heart adds a sprinkle of magic to its appeal.
Crafting the Perfect Rhodolite Halo Sterling Silver Bracelet
Understanding the value of the perfect piece, we present to you a timeless bracelet that stands out as a unique gem.
The Craftsmanship
"Crafted with love" in sterling silver, this bracelet ensures a shine that reflects the brightness of your love. The delicate design tells a tale of elegance, sophistication, and charm.
The Inspiration
The combination of pink Rhodolite with sterling silver is inspired by fairy tales and enchanting forests, appealing to the romantic at heart.
Occasions: Celebrate Your Love Story
Whether it's an anniversary, a birthday, or a just-because moment, our bracelet is the perfect way to say, "You're cherished".
 Anniversary and Birthday Celebrations
The timeless appeal of this bracelet makes it an ideal gift for marking special milestones.
Self-Love: Why Not Treat Yourself?
Feeling a little self-love? Embrace the magic within you and add this sparkling gem to your collection.
Special Offer: A Magical Surprise Awaits
The first 50 orders will receive a "surprise gift"! Grab this celestial beauty now and let your love story shine.
How to Buy: Your Magical Journey Begins
Ready to embark on this magical journey? [Buy Now](https://www.suratdiamond.com/bangles/rhodolite-pendant-with-silver-bracelet-SLBR19.aspx#hello) and add a touch of enchantment to your life.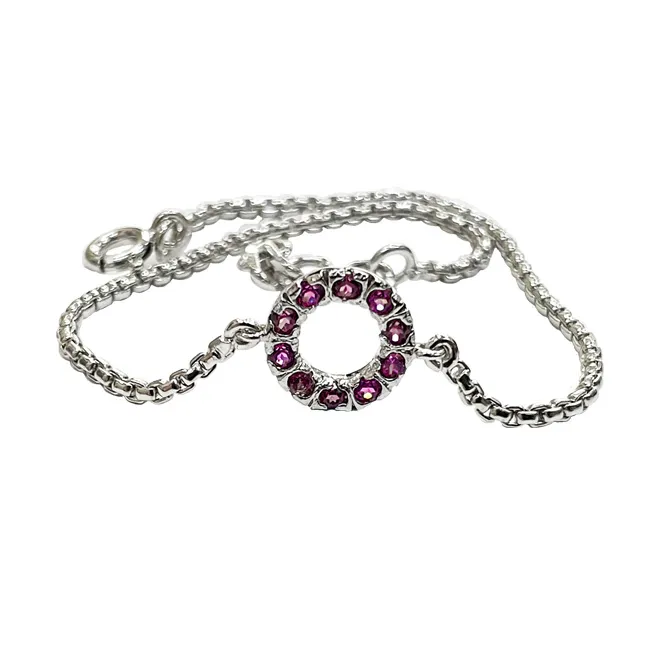 Conclusion: Embrace the Enchantment
Our "Real Pink Round Rhodolite Halo Sterling Silver Bracelet" is more than a piece of jewelry; it's a connection to a world of enchantment. It's a way to gift a piece of the stars, a tangible fairy tale to hold. The combination of elegant craftsmanship and the timeless appeal of Rhodolite makes it a truly one-of-a-kind offering. Hurry before this gem disappears into the enchanted forests, and let your love story shine brighter than ever!